Post by Griever on Mar 17, 2010 3:49:58 GMT -5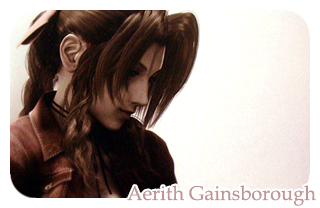 Name:
Aerith Gainsborough
Nicknames/Alias:
None
FF:
Final Fantasy VII
Age:
22
Height/build:
5'3"/Thin
DoB:
February 7
Weapon:
Rod
Level:
35
Strength:
68
Physical: 28
Magical: 40
Special Skill:
Various healing skills
Magic:
Curaga, Regen, Fira, Blizzara, Esuna
Summon:
None
Description:
Aerith has long brown hair usually worn in a large braid tied at the top with a pink ribbon, with a pair of soft curls falling onto her chest from either side of her neck, and arching bangs stopping above bright green eyes. She most often wears a pale pink dress with no sleeves, and over that, a short red jacket, with large silver bands around her wrists and brown boots.
Personality:
Gentle and kind, Aerith doesn't enjoy fighting, but won't hesitate to if necessary. She can be stubborn, and if she decides to do something, she won't be stopped. If she feels she has something or someone to protect, she will do so, even if it means endangering herself.
History:
Aerith was born in Icicle Inn, to the Cetra Ifalna and the Shinra scientist Professor Gast. Her earliest childhood passed without incident, as her father learned more and more about Ifalna and the mysteries of the Cetra, but their peace was abruptly ended when Professor Hojo decided he wanted the pair of unique specimens for himself. Shinra soldiers burst into their home, and in the ensuing chaos, Gast died to protect his family, while Ifalna and Aerith were captured.
Several years later, Ifalna broke free, but not without paying a heavy price. Wounded beyond recovery, she died as she reached Midgar, entrusting her young daughter to the woman that found them at the Sector 7 train station. Elmyra took Aerith in and raised her as her own, giving her a simple but relatively stable life for nearly ten years, despite the fact that Shinra still closely watched her.
At fifteen, she met Zack Fair, a member of SOLDIER, when he fell through the roof of the church where she had begun to grow flowers. The two quickly grew close, but their relationship was short-lived, with Zack so often being called away for missions, ending in the one that eventually led to his death.
Not knowing the circumstances, she was left to believe that he had simply lost interest in her and left. Though she was considerably pained by it, she moved on, selling flowers as he had suggested she do, until eventually she met another member of SOLDIER in the same way as Zack - Cloud Strife.
She quickly became entangled in the battle with Shinra that Cloud and the members of AVALANCHE he worked with fought, eventually being captured by them during their efforts to stop the company from dropping the plate covering Sector 7.
Aerith was soon freed from Shinra and joined Cloud's company in their efforts to track down the former SOLDIER Sephiroth, wanting to understand her own Cetra abilities, which had come to attention during her capture. They remained together through the Temple of the Ancients, which she was key in navigating thanks to her unique connection to it, but upon discovering Sephiroth's plan to summon Meteor and their failure to stop him from obtaining the materia necessary to do so, she decided to travel on her own and use the white materia left to her by her mother to summon Holy and prevent Meteor's fall.
Though she made it to the Forgotten Capital, a place once populated by Cetra like herself, her own attempts to summon Holy were cut short. Just as Cloud reached her, Sephiroth descended with his Masamune in hand, killing her. Her prayers were eventually answered and the planet was saved, if somewhat damaged, and she remained in the Lifestream, giving what aid she could from there to those affected by the Geostigma that followed Meteorfall.
And then the worlds merged, and the lifestream began to flow from the planet. Aerith awoke on unfamiliar soil and found that, somehow, she was alive again. Though she can't explain it, she has since begun to travel, hoping to find those she once knew.