Post by Cloud on Mar 13, 2011 8:52:34 GMT -5
Name:
Cloud Strife
Nicknames/Alias:
N/A
FF:
VII
Age:
26
Height/build:
5'7''
DoB:
August 11 or 19, 1986
Weapon:
"Fusion swords"
Level:
64
Strength :
192
Physical:74
Magical: 54
Agility: 64
Special Skill(s):
Cloud is an excellent swordsman and proficient caster. His limit breaks are among the most powerful known and are a force not to be underestimated by any means.
Limit Breaks:
Braver:
A powerful single physical attack in which Cloud performs a downward slash; it inflicts three times the normal damage.
Cross-slash:
A physical attack of three slices which can deal 3.25 times the normal damage; also known to inflict paralysis.
Blade Beam:
Unleashes a wave of energy upon the initial strike, dealing out 3.5 times normal damage while inflicting damage upon other enemies with the shock wave equivalent to one normal attack.
Climhazzard:
After the initial attack, Cloud jumps upwards; running the blade along the enemy to deal massive damage. (About 4.4 times the normal damage)
Meterorain:
Cloud summons six meteors to fall and randomly hit targets for 1.6 times the normal damage.
Finishing Touch:
Rarely readily available, this attack his all enemies with a tornado, causing instant death and little over 3 times normal damage to any enemy immune to death. (For rp uses, everyone is probably immune to death lol)
Omnislash:
Hits an enemy fifteen times with auto-crit, hitting at .75 times the normal damage each hit.
Omnislash Version 5 (and "6"):
Used with Cloud's Fusion swords, he splits the sword into it's six separate components that fan out around the target. He then 'flashes' to each part, striking the enemy. In ACC, this attack is extended to include a second sequence increasing the number of slashes to 14. In both forms, the attack is powerful enough to take out a resurrected Sephiroth.
Magic:
Just like any other person from Cloud's world, magic is granted to those who use materia. Since such spells are dependent on the materia at hand, Cloud's magic attacks will change accordingly to the materia in his possession.
Summon:
Bahamut Zero: This is third and strongest form of Bahamut in his world. It's signature attack, Terra Flare, is an extremely potent magic spell that deals a massive 7.5 times basic magic damage.
Appearance:
A man whose appearance is unique and memorable; Cloud's short stature, glowing blue eyes and spiky blonde hair is among the things that gives him a distinct image among his friends. For a person who can fight hand to hand against some of the most powerful enemies in his world, Cloud has a rather slim build with noticeable muscle tone being mostly limited to his upper body; undoubtedly needed to swing around his sword with accuracy and force. His brilliant glowing blue eyes, which is a trademark of SOLDIER operatives thus often leading to people believing he is one, is the source of majority of his expressions. Known to have a 'stuff upper lip,' Cloud is rarely seen outwardly expressing his feelings with facial or bodily expressions. Cloud's clothing is a product of necessity; necessity being not only something to wear, but something that gives him the freedom of almost unrestricted movement in the heat of combat. A dark blue high collar shirt with no sleeves covers his torso, while he wears black pants and boots below; his left leg shrouded in a large black cloth. His left shoulder is protected by a black pauldron (attached to the left strap) accented by a large Fenrir crest biting down on a metal loop. Cloud has strapped to his back a holster for multiple swords, potentially for all parts to the fusion blade; the reason for the large leather straps going across his chest. As for the small details; he wears a pair of black leather gloves accented with a Fenrir crest (right glove goes up to his midarm while the left is of normal length), his left ear is pierced with a smaller version of the Fenrir crest on his shoulder, and on the left arm he has tied a pink ribbon in remembrance of Aerith.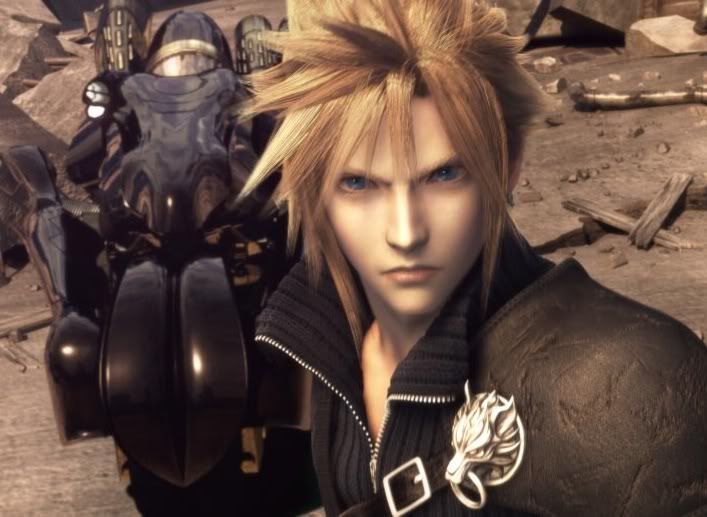 Personality:
Cloud's unfortunate past and subsequent rough life has done a lot to shape him into the man he is now. Despite being released from his tormented guilt caused by the death of Aerith and Zack and relieved of the helplessness brought down on him by Geostigma, Cloud still carries with him the habits of the past. While he no longer distances himself from his friends, he still continues to hide his feelings, pain and emotions from those close to him. Generally quiet in his speech, Cloud rarely is the type to raise his voice, let alone be angered by anything less than a direct attack on him or his friends. Despite this, he has a lighter side only seem by those close to him. He has an ironic dry sense of humor, cracking jokes here and there that some people wont pick up on right away. He is friendly to most people and more than compassionate enough to help a stranger in need. (Denzel is noteworthy)
A man of great loyalty, Cloud will never turn his back on his friends and allies. He will selflessly place himself in direct danger if it means preventing them harm. Despite how reckless this may seem to some, Cloud is intelligent and fairly calculating; he isn't one without a plan or strategy. With his intelligence and force, he is not only a very capable combatant, but he also knows how to get the answers he wants, regardless if he is confronting Rufus Shinra or Sephiroth himself.
History:
Midday in late September of 0007, Cloud looked down upon his fallen friend. Literally fighting off hoards of Shinra soldiers, Zack Fair was gunned down and mortally wounded while protecting not only himself, but an immobilized Cloud as well. With his few last seconds of life, a blood soaked Zack entrusted Cloud with his Buster sword, a weapon of great importance to him; and more importantly, his legacy... For a man of such simple beginnings, Cloud grew from an aggressive youth to a broken ex-"SOLDIER," then into the man who'd be remembered for saving the world not only once, but twice; and that was all before he was twenty-four years old.

"... I am... your living legacy..."
Cloud Strife was born in a quiet village called Nibelheim, which was nestled at the foot of Mt.Nibel, on August 11 (or 19), 1986. The majority of his childhood still remains a mystery to this day. Cloud grew up without his father, who had died when he was very young leaving his mother to raise him on her own. Despite the fact that Cloud longed for friendship with the other children in Nibelheim, he pushed them away, somehow feeling that he was better than them. After time the young boy developed a crush on a neighbor girl named Tifa Lockhart. Even as time passed, Cloud never admitted his feelings for her, besides being shy, he greatly disliked her friends.
In 1995, when Cloud was only nine years old, Tifa's mother had died, leaving the girl upset and confused. She thought that she could meet her mother again only if she crossed Mt.Nibel, where she had believed her mother had gone. Wanting to keep her safe, Cloud followed her up towards the mountain. Their journey however was short lived; Tifa, while attempting to cross an old dilapidated bridge, fell and became injured. Finding his daughter hurt, Tifa's father blamed Cloud for taking her up onto the mountain, and forbade him from approaching her. In turn, Cloud started to blame himself for the events that caused Tifa's injury, believing that it was because of his own weakness that he was unable to save her from harm. Because of this he grew angry and violent, often getting into fights and not caring who it was with.
Four years after the event on Mt.Nibel, a young teenage Cloud made the choice that would change his life forever, and in hindsight perhaps save him from the same fate that was waiting for the majority of his fellow villagers. He wanted to become a hero. A hero like those he read about in the papers, namely a SOLDIER called Sephiroth. With a new found resolve, Cloud met with Tifa at the water tower to inform her of his plans, his wishes, with the hidden intention to impress her. Before allowing him to leave, Tifa made Cloud promise her one thing; that he had to save her if she ever found herself in trouble. Early that following spring, Cloud left for Midgar.
"..Well... okay, you never made SOLDIER, but its what's in here that counts..."
Despite his best efforts, Cloud found himself unable to become a SOLDIER; his dream slipping from his grasp before his eyes. Having to settle for working as a Shinra infantryman, he had to make do with what he was given. Sometime after, Cloud met a First Class SOLDIER named Zack Fair while working on an assignment in Modeoheim. After a short conversation about their 'backwater' roots, they quickly form a solid and lasting friendship. Their shared assignment took an unexpected turn when they stopped to investigate a mako excavation facility, where they encountered Genesis Rhapsodos and Dr. Hollander. Cloud is able to capture Hollander for a short time, but the doctor was able to escape after a brief struggle, leaving the pursuing Cloud and Turk commander Tseng to be stopped by Angeal Hewley.
After three years away from home, Cloud returns to Nibelheim on September 22nd, 0002. Him, along with Zack and Sephiroth were under orders to investigate a faulty reactor in Shinra's Mt.Nibel facility. Upon finding out that Tifa was to be their guide, Cloud who was ashamed of his inability to join SOLDIER, hid his identity from the towns people, and more so her; only revealing himself to his mother. Upon their arrival to the reaction and subsequent investigation, Sephiroth discovers Professor Hojo's failed experiments with Mako soldiers along with Shinra's hiding place for Jenova. Believing that Jenova was his mother, Sephiroth fell into madness, immersing himself in the work of Professor Gast Faremis. He wasn't seen again until the first of the following month, when he set out to destroy Nibelheim. The burning of Nibelheim was the first of a chain of events that would tear apart and break down the person Cloud had become. Helpless to save his mother who was caught in the inferno, he rushed off towards the reactor to confront Sephiroth. Upon his arrival Cloud found Zack and Tifa, both wounded and Zack barely conscious. Stricken with grief and enraged, Cloud picked up Zack's buster sword, catching Sephiroth off-guard and impaled him. Leaving the man to his apparent death, Cloud rushed back to tend to Tifa. To his surprise just moments later, Sephiroth emerged from the reactor core, badly wounded. Cloud picks up the buster sword and in his attempt to fight off the attacker, gets stabbed through with Sephiroth's Masamune. Desperate for more strength, he pulled more out from deep within himself and used the katana to throw Sephiroth into the Mako pit below. Having no more strength to carry on, Cloud collapsed soon after, losing consciousness.
In the four years that followed the Nibelheim incident, Cloud and Zack both become subjects to Professor Hojo's experiments. Attempting to test his Jenova Reunion theory, he exposed them to Mako following injections of Jenova cells. December 19th, 0006, Zack breaks out of his confinement and helps Cloud, who is in comatose because of the experiments, escape from the facility where they were being kept. Due to the strong reactions to the experiments done on him, Cloud was weak and delirious. Zack continuously spoke to him despite his unresponsiveness during their escape, telling him about his life and plans for them both to become mercenaries once they reached Midgar.
For almost an entire year Cloud was carried around by Zack, who couldn't bring himself to just leave his friend behind. With Midgar off in the distance, there was hope that things would turn out for the better, better than the last five years at least. This feeling however was short lived once Zack came face to face with the Shinra forces that had finally caught up with them. Fighting back to defend both himself and Cloud from execution, he single-handedly took down the majority of the opposing force. As the battle started to wind down, Zack was mortally wounded by the last few remaining infantrymen. Cloud is mistakenly left for dead when he is found unresponsive by the Shinra operatives. However despite his state when found, Cloud had been recovering, and witnessed the battle between Zack and the small army of soldiers. Crawling over to his friend, Cloud can only watch as his closest friend dies before him. With his last remaining breaths, Zack entrusts Cloud with his Buster sword, and tells him that his legacy will live on within Cloud himself. Deeply distressed, Cloud manages to bring himself up onto his feet, Buster sword at hand, and began to make his way towards Midgar.
"...So what if it looks hopeless? If it were me, I still wouldn't give up."

Cloud reaches Midgar a short time after Zack's death. Due to Hojo's experimentation, Jenova's mimicry ability passed onto Cloud and his own weak and broken mind, he impresses Zack's memories into his own, along with Tifa's memories of him and his own ideals. With this, he creates a new set of memories and a persona to go along with them, effectively throwing away the old Cloud as if he was trying to bury the past. Because of this, when Tifa finds her old friend, she is confused by the differences in his character. Despite this, she requests his help to aid AVALANCHE in their fight against Shinra. Their first mission, to attack the Sector 1 reactor, was a success. However their list of successes would be interrupted there with the attempted attack on the Sector 5 reactor. Having found out about the planned attack beforehand, President Shinra greeted the insurgents, revealing an Air Buster and leaving soon after, believing his robot would kill the group. The group however destroys the robot, but during it's destruction, Cloud is left hanging for his life. He grip had soon failed, and he fell into the slums below.
Never in his life would Cloud have thought that a bed of flowers would save his life, let alone a bed of flowers growing out of a run down church in the slums. Waking up soon after, Cloud is greeted by Aerith, who needs his help. In exchange for a date, Cloud agrees to be her body guard, preventing a Turk named Reno from arresting the flower girl. Taking her home with him, he later sneaks out to head towards Sector seven alone; however Aerith heads him off, seeing no choice, he agrees to take her along. Short time later, as they're resting in a park, they see Tife on a chocobo cart; soon coming to the assumption that Don Corneo had kidnapped her. Disguising Cloud as a woman, the pair makes an attempt to rescue her, after which Don Corneo informs them that Shinra has found out AVALANCHE's base of operations.
Out of desperation to rid himself of AVALANCH, President Shinra drops the sector 7 plate down onto the slums below, effectively destroying the entire area. During this time, Aerith is caught trying to take Marlene to safety. Not able to just look the other way, Cloud leads an attack on Shinra headquarters to rescue her. While inside, he meets Red XIII and comes across Jenova's headless remains. After being captured and a short imprisonment, Cloud and the group wakes to find that their cell is unlocked, guards dead. Following the trail of blood, they find Sephiroth murdering President Shinra.
After a hasty escape from Midgar, Cloud finds himself in Kalm, where he retells his version of the Nibelheim incident to the group. Tifa knows this version of the story isn't true, but she decides to remain silent, still confused as to why Cloud was behaving this way, believing these things. Once Cloud moves on to explain his grudge against Sephiroth, the group decides to help him search for the former SOLDIER.
Their journey to find Sephiroth leads them to places like North Corel, and the Gold Saucer, where they find Cait Sith who joins their cause. From there they venture to Cosmo Canyon, the home of Red XIII. There they meet Elder Bugenhagen, who gives them information about the Planet, the Lifestream, and the negative effects Shinra's drilling for Mako has on the planet. When the group reaches Cloud and Tifa's home town of Nibelheim, they find it completely rebuilt, the villagers having no recollection of either one or memory of the town being burnt down. Upon searching Shinra manor, Cloud and friends comes across Vincent in the basement, and Sephiroth who talks about a "reunion" that he feels Cloud should join. From there, Cloud leads them across Mt.Nibel to make their way to Rocket Town, where they attempt to steal a plane owned by Cid Highwind, who joins them after the plane is shot down by Shinra.
Coming to the conclusion that they needed an item called the Keystone to figure out what Sephiroth was planning, Cloud lead the group back to the Gold Saucer. After acquiring the item from Dio, they are forced to stay the night when the trolley breaks down. Cait Sith is revealed to be a Shinra spy, steals and Keystone, and turns it over to Tseng.
From the Gold Saucer, Cloud takes the group to the Temple of the Ancients, where they find Tseng who is wounded by Sephiroth. Finding Sephiroth in the temple, he is told by his enemy his plans to call on Meteor to critically wound the planet. When the Lifestream emerges to heal the wound, Sephiroth would absorb all it's energy, turning himself into a god. Sephiroth leaves Cloud, who soon discovers that the temple itself is the Black Materia needed to call upon Meteor. Cait Sith sacrifices himself to aquire it, but Sephiroth returns, and takes control of Cloud (because he was infected with Jenova cells), to hand over the black materia. Soon after Cloud goes beserk, attacking Aerith, and has to be knocked out by his friends to stop the rampage. After seeing Aerith in a dream telling him that only she can stop Sephiroth, Cloud awakens to find her gone, thus takes the group to go search for her. They pursue her through the Sleeping Forest to the Forgotten Capital....
Cloud finds Aerith praying upon an alter in the center of the city's underground complex. With his mind still under Sephiroth's control, he attempts once again to attack her. Regaining control of himself justin time, Cloud watches as Sephiroth drops down from the alter above, stabbing Aerith and killing her. After putting her body to rest, Cloud explains to the group that he has been under Sephiroth's control, and there was a possibility that it may happen again; despite this he requests for them to stay.
From the Forgotten City, Cloud leads AVALANCH to the Northern Crater, where he briefly regains the Black Materia, giving it to a party member for he had long since lost trust in himself. Cloud soom finds the center of the crater, when of which Sephiroth reappears, revealing to Cloud a partial vision of what really happened at Nibelheim. He shows Zack's presence instead of Cloud's, and leaves out his own true part in the events. Soon after Shinra arrives with Hojo, and Hojo has his turn in revealing his Jenova Reunion Theory that Cloud was forced to be a part of. Upon seeing and hearing all of these revelations, true and false as they maybe, Cloud quickly starts to believe that he was entirely created by Hojo; this shatters his mind. Sephiroth there after uses an illusion to trick one of the group members into bringing Cloud the Black Materia, which he hands over almost right away. While Cloud, feeling sorry for everything, apologizes to Tifa for being a fake; the crater shakes violently as Sephiroth activates the Materia. AVALANCH escapes as Cloud is left behind to fall into the Lifestream.
Almost a week later he is found in Mideel by Tifa shortly before the town was destroyed by Ultimate weapon. Because of the destruction of the town, Cloud and Tifa both fall into the Lifestream. While there, Tifa helps Cloud piece back together his memories, proving to him that not only did he really exist, but he can now believe in his own existence. With his true self restored, he resumes command of the group, and with the help of Bugenhagen, they discover that Aerith had summoned Holy just before her death, the ultimate white magic. In theory it could stop Meteor, but Sephiroth was holding it back.
In a final attempt at stopping Sephiroth, Cloud leads the party back to the Northern Crater, where they descend deep into it's depths to confront Sephiroth. There they defeat Sephiroth's god like form, sending his mind back into the Lifestream. Sensing that he truly wasn't dead, Cloud 'mentally' followed him in to defeat him one last time. One the fight was finished, Aerith returned Cloud to his body just in time for him and the party to escape the crater moments before Holy emerged to fight Meteor. With Meteor so close, Holy was forced to hold back it's full power, that is until Aerith commanded the Lifestream to emerge, pushing it back so that Holy was able to unleash its power fully, destroying Meteor, and saving the planet.

"You already beat him once, didn't you? This should be a cinch."
In the two years following the events at the Northern Crater, Cloud and Tifa opened up a new 7th Heaven in the newly built city of Edge. From there he quit his job as a mercenary and takes up a new job as a 'delivery boy' for his new business "Strife Delivery Service" His new life however didn't go as he had planned. While visiting Aerith's church in the remains of Sector 5, Cloud comes out to find a boy collapsed, overcome by Geostigma. Cloud took him home to live with him, Tifa and Marlene. Soon after, despite how happy everyone was, Cloud moved out of their home and into the church, choosing to keep his feelings, pain and emotions hidden away from the others. While away from his true home, Cloud left Midgar to look for a cure to Denzel's Geostigma. Unfortunately this search however resulted in Cloud getting himself infected with the same terminal disease. Seeing himself as a failure, Cloud fell into tormented guilt and despair. Seeing himself unfit to save anyone, he stopped answering his phone calls, and all but cut himself entirely from his friends. His self banishment too would however be short lived with the arrival of three new threats to the post-Meteor fall world. Upon getting a message from Tifa, Cloud is informed that Reno has a job for him. Soon after he is attacked by two unknown men, both asking for "Mother."
Once the attack comes to a sudden and mysterious stop, heads to Healen Lodge, going by Tifa's information. Upon his arrival he is surprised to find Rufus Shinra alive, but also plagued by the Geostigma. Rufus tries to get Cloud to join him to combat the trio that attacked him earlier, lead by Kadaj. Cloud gave it little thought, dismissing it soon after Reno mentions the resurrection of Shinra Corp.
Cloud, having returned to the bar after passing out from Geostigma, is informed that Kadaj and his 'brothers' were kidnapping children, taking them to the Forgotten Capital. At first Cloud was very reluctant to fight. He feared failure, unable to put the past behind him so he could move on. After receiving some some encouragement from Tifa, he decided to go, it was something he had to do. His arrival was met by Kadaj, his gang, and a group of children under his control, Denzel included. A fight breaks out, the three of them over powering an out of practice Cloud. The short lived battle ended when Vincent rescued Cloud, taking him off into the forest nearby. There Vincent explains to Cloud the true nature of Geostigma, a plague brought on by Jenova cells. Their conversation was interrupted by Marlene, who had escaped Kadaj and managed to find her way to Cloud. After a few moments to dwell on his thoughts, Cloud takes Marlene home.
Dropping of Marlene, she tells him not to give up, making him realize that no matter what, his friends have been there for him, now it was his turn to be there for them. Rushing off to aid in the battle against Bahamut SIN, he saves Tifa and Denzel from almost certain death, and goes on to fight the summoned creature; with the help of the old group from years past, Cloud defeats Bahamut SIN. Cloud eventually begins chasing after Kadaj, Yazoo and Loz, the first of which acquired Jenova's "head" and was rushing off to start the 'reunion." Cloud fights with Yazoo and Loz, both who do all they can to keep Cloud from catching up to Kadaj. With help from Reno and Rude, Cloud is able to get away from the two distractions and catch up with Kadaj at Aerith's church. Confronting Kadaj, a small battle ensues, blasting a hole in the flower bed, creating a fountain of Lifestream infused water, which cured Cloud's Geostigma.
Upon leaving the church, Cloud chases Kadaj up onto the plate, just outside the ruins of Shinra headquarters. They battle once again, Cloud realizing that his friends still have faith in him, overpowers Kadaj. Beaten but not down, Kadaj absorbs Jenova cells, resurrecting Sephiroth. An epic battle ensues. Cloud and Sephiroth fight their way up the side of the Shinra building, cutting it apart piece by piece. No matter how hard he tried, Cloud seemed to be out matched at every turn. Attacking Sephiroth with an Omnislash, he gave him the opportunity to impale Cloud through the chest, throwing him up into the air and stabbing him multiple times before slamming him back to the ground below. Just when it seemd that all hope was lost, Zack "appeared" in Cloud, talking to him and giving him the strength to pick himself up and keep fighting. With a sudden rediscovery of strength long lost, Cloud attacks Sephiroth, finishing him off with Omnislash Version 6.
Having defeated Sephiroth, Cloud stood atop the remains of the battered Shinra building as it rained Lifestream infused water, curing almost all of their Geostigma. Cloud, feeling a long needed bout of relief looked up towards the sky. Unable to catch a break, Yazoo and Loz attack Cloud, the first shooting him before they both set off a kamikazi explosion induced by a large amount of materia. The blast kills both Yazoo and Loz, and seemingly kills Cloud. Healed by Aerith, Cloud reawakens in the newly formed pool that occupies the space once taken by the flower bed. After helping Denzel into the water to cure him of his geostigma, Cloud sees both Aerith and Zack in the doorway. Before they both fade away, Aerith tells Cloud that everything is all right. Finally realizing that he is now where he belonged, that he did in fact have the strength to save those who he cared about, he replies that he knows because he is not alone, not anymore.
"In the past you've always looked after me. You and Denzel and Tifa; you were there whenever I needed you. Well now, its my turn."