Post by alastor on Feb 9, 2013 13:38:52 GMT -5
Name:
Gideon Uriela
Nicknames/Alias:
His name loosely translates to "Shining Light of God". While serving in SOLDIER others affectionately referred to him as" OG".
FF:
VII
Age:
26
Height/build:
He is a rather large man towering at 6'8 and 225 pounds of lean muscle seemingly chiseled out of granite.
DoB:
November 8th
Race:
Wutai
Weapon:
Scarlet Disaster
History:
A relic of a time long since past hidden deep within the Wutai mountains. There is a fable that the ancients once settled in that small corner of the world amongst the rocky mountains where the life stream meets the surface. There had been many explorers and treasure hunters that had to audacity to venture into the wilds but none never returned. Even if one had the gumption to ascend the treacherous mountains there was still the problem of finding the place that is if it even existed. Gideon and a couple foolhardy men decided that they would settle this urban legend once and for all. Taking an educated guess they decided upon a couple of remote areas that were rather difficult to reach even by airship. Their choices were further narrowed down by the unique weather patterns of a particular area that made it extra difficult to navigate.
The sudden tropical storms that settled over the area made it too dangerous to get close by airship so the travelers had to climb and hike to their uncertain destination. The perilous journey sapped the resolve of the explorers daily until they began to experience casualties. Those who were left decided to give up on their foolish adventure but Gideon decided to press on alone, he felt that something was calling out to him. He wanted to find this place this Shangri la of sorts he needed to find it. Days past, low on supplies, the hostile environment was taking its toll. He was ready to give up the search when he found a clue that restored his vigor. Carved into the stone of a narrow passage was writing that appeared to be Cetra along side what was an early form of modern language.
Upon closer observation it seemed that someone was translating the Cetra writing but failed to complete it. From what, Gideon could surmise he was heading in the right direction and the translated Cetra offered guidance. Following the broken directions the best he could he stumbled upon a place that could be mistaken for the promised land similar to the northern creator. There was an abundance of crystallized mako that formed into a cavern. To enter he was forced to bust his way in but subsequently trapped himself inside due to the falling debris. The entire cavern was all aglow, bathed in the emerald light of the life stream that reflected off the crystalline walls. Venturing further in he came to an open area that contained a reservoir of mako situated a massive crystalline structure that contained many apertures that seemed like doorways. Gideon entered the structure and ventured around for awhile slowly succumbing to mako radiation.
Nearing the center of the structure he came upon an artifact frozen in the crystal. Retrieving it he discovered it to be a very large sword. What he didn't realize was that the crystal that it was encased in was a sort of fail safe. The walls quaked and splintered as the structure began to fall apart descending into the lake of mako with him trapped inside. A sizable stalactite fell shattering beside him a piece of walloping in the temple nearly knocking him unconscious. In his twilight a woman clothed in regal golden armor appeared to him, she was a pure vision of beauty. Her lips moved but the words they failed to cut through the ringing in his ears. The jarring descent into the mako plunge caused him to bust his head against floor putting him out. He awoke a day later on a beach with trophy in hand, suffering from mako poisoning of which he over came with time.
Weight:
50 pounds
Length:
6 feet
Width
: 6 inches
Description:
When compared to something else it closely resembles a buster sword or zanbato. What sets this heavy weapon apart from others is that its blade takes on the appearance of an opaque scarlet crystal similar to a summon materia. The broad blade is rectangular in shape and technically double sided, the length of the blade is beautifully scribed with the incantations of a long lost language. The cutting edges of the weapon are relatively dull lending it to cause blunt damage and crush rather than cut. Not only that, the blade vibrates at a high frequency causing it to act more like a chainsaw than a sword.
Level (Anywhere between 1-100):
80
Strength (Triple level. Add 50 extra points if level is 80-89; add 100 extra if level is 90-100.):
(Split the strength up between physical, magical, and agility.)
Physical: 45
Magical: 40
Agility: 45
Special Skill(s):Magic:
Enemy Skills
Contain
paired with quadra all materia. : Contain is a collection of four powerful elemental magics: earth, fire, lightning and ice. Upon casting one of the four he is able to cast the same magic three more times in rapid succession.
Double Slash:
Allows him to chain up to four strikes together in rapid succession without being interrupted.
Slash-All:
Allows him to attack multiple enemies within a close vicinity of each other at the same time.
Summon:
(Only one character may have each summon from each game; for example, if Rinoa has Final Fantasy VIII's Shiva, no other Final Fantasy VIII characters are allowed to take her. Tifa, however, may have Final Fantasy VII's Shiva. Each character, with the exception of summoners, is allowed only one summon. Final Fantasy VIII characters may have original GFs.)
Appearance: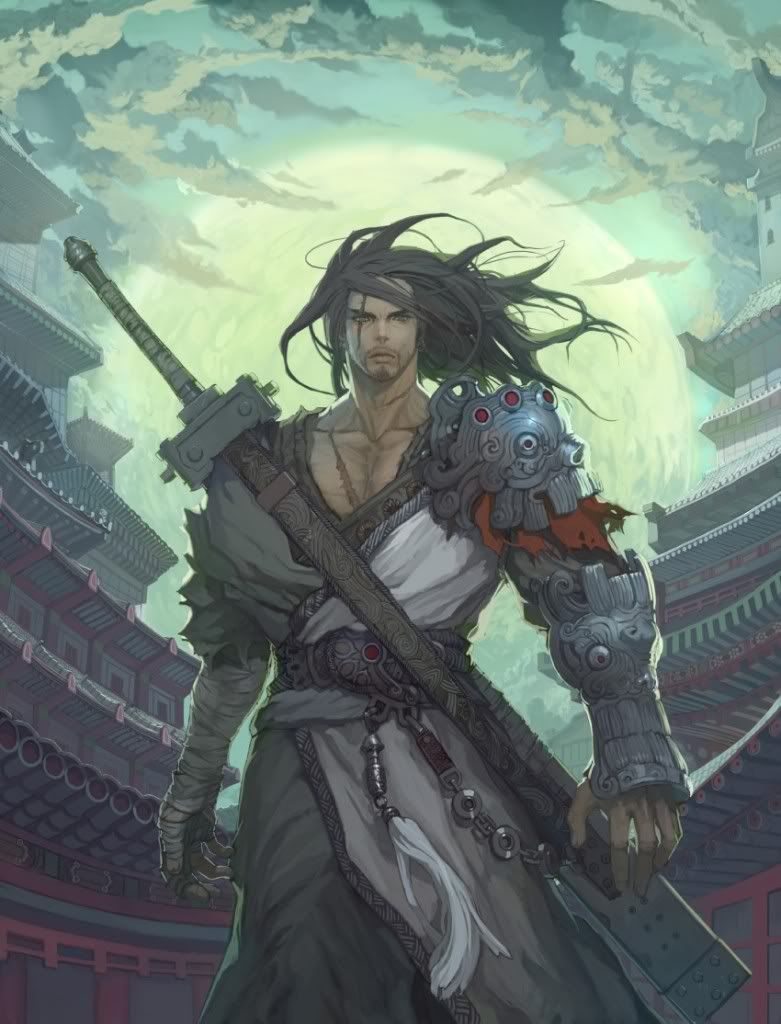 Personality:
History:
From birth, Gideon was destined to be someone special. The night sky was illuminated by the aurora from the north all the way down to the Island nation of Wutai. Growing up his was a rather unusually large child towering over everyone else his age. Taking advantage of his position he often presented himself as the bully among the other children. Coming of age he was recruited by Master Gado to become a ninja, in time he proved to be an excellent prospect although his heart didn't truly lie in it. He befriended Yuffie who at the time was still a small girl and acted as an other brother to the energetic girl though her memories of him may have faded.
He left Wutai at the age of 16 wanting to see more of the world and enjoy what life had to offer, he left is homeland in search of fame and fortune eventually winding up on the doorstep of the bustling metropolis of Midgar.