Post by Bharune on Mar 23, 2011 18:16:04 GMT -5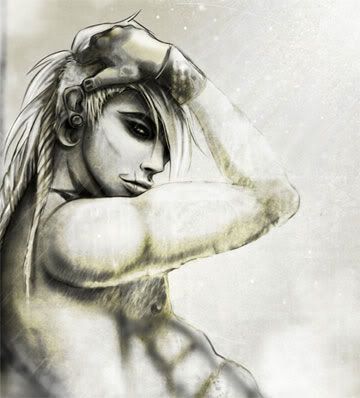 Name:
Seun Soe Fox
Nicknames/Alias:
Carpenter
FF:
FFVII
Age:
28
Height/build:
6'2, not insanely broad but still muscular
DoB:
February 10th
Weapon:
.50cal Desert Eagle, studded knuckles
Level:
51
Strength:
153
Physical: 103
Magical: 20
Agility: 30
Special Skill(s):
Beating the shit out of punks who think they're tough shit. And protecting the president, of course.
Magic:
None
Summon:
None
Appearance:
Tall and well-worked, Seun cuts a pretty intimidating figure even in his snappiest formal attire, but that's kind of the point of a Turk. He tries to clean up nice for those oh-so-special occasions, but between the rogue style of his bleach blonde hair –- shaved on one side, long, curled, and hanging in his face on the other –- and the scars that adorn what might otherwise be a handsome face, he stands out as that dude no one really wants to fuck with. His left hand and wrist is a mechanical prosthetic, but he typically wears gloves so it isn't widely known information. Eyes: amber. Complexion: lightly tanned.
Personality:
Seun is, in a word, an asshole. He's not too big of a talker, but you can bet when he opens his mouth the words aren't gonna be too pretty. He's sarcastic, bitter, cynical, and...well, misanthropic in general, so very few people trust or like him, but he's always fulfilled his duty without wavering. He just doesn't like people, so he's unnecessarily caustic with his words and intimidating to boot, but he's never betrayed a comrade -– mean as he might be towards them –- or Shinra, so he earns a begrudging respect from his peers.
History:
Born on the continent of Wutai, Seun was given a very simple and uneventful childhood, being neither particularly ambitious nor much of a troublemaker. Of course, not many people caused problems in the peaceful, then-independent nation, which prided itself on self-sufficiency and lack of conflict. Back then, Wutai had been beautiful, dignified, and Seun had loved it.
He married a lovely foreigner and eventually had two sweet daughters, and either of them could melt the sternest heart with their inquisitive gazes and bright quips. His family wasn't rich and he didn't have much himself, but providing for his cherished dears became the highest priority out of anything in his life. So Seun bought some land and moved away from Wutai proper to curl up in a fulfilling agricultural lifestyle, at least until he could make enough money for something better. There was nothing wrong with a little dirt and grit, nothing at all wrong with some heavy labor and fresh, chilled mornings, peaceful but never lonely with the smiling faces of his girls.
But the talk of war came, and suddenly restlessness was pervasive throughout Wutai. Shinra wanted to penetrate the bountiful earth with their wicked harvesters –- those
reactors
that sucked the land dry, causing everything green to shrivel and wither. Seun had heard all the stories. He didn't like it.
Even back then, young and inexperienced, he hadn't been one to cower, and would've gladly given his life to protect Wutai if not for...his family. Seun was no idiot, and he didn't share the arrogance of many of Wutai's political leaders; Shinra would descend upon them like a plague of locusts and, if they resisted, devour everything. Wutai wasn't lacking in military power, but Shinra was a beacon of globalized wealth and strength, supplemented with allies both conquered and sworn, whereas Wutai had done little to cultivate foreign friends.
Fuck honor; Seun was getting his family out. Problem was, they were all slaves to the same master in the end -– currency. Traveling required gil, and though he swore he would find some way to purchase their fare, it wasn't enough for his wife. She slipped away in the middle of the night, sliding into bed with Shinra and leaving both Seun and their daughters. He never learned what became of her, nor does he care to.
But it didn't matter. The Wutai War came, and because of the military edict Seun wasn't permitted to leave the country. He was drafted into his nation's service, just like so many others, though it was sworn to him that his children would be well cared for. His older sister took the girls under her wing, and when the war worsened she set out for extended family in Midgar, promising to write once she arrived so that, once the war was over, he could meet them in Midgar and be reunited with his lovely daughters.
He didn't want to let them go, but he knew they weren't safe in Wutai. So when he watched the ship disembark from Wutai shores, he could do nothing but bid them the best, pray ardently for their safety, and vow to survive to see them again soon.
The Wutai War came and went. Fort Tamblin fell to SOLDIER and Shinra was victorious, devastating Wutai forces and destroying morale. And Seun had received nothing from his sister or his children, not so much as a letter or a call. There was no news. There were no signs.
Alive -– though sans his left hand, unfortunately –- Seun took his pay and started off for Midgar, afraid of what he might discover but never completely losing hope. It wasn't until several months after his arrival at the grand, metropolitan plate -- several months of fruitless searching and dead ends -- that he finally discovered the fate of the vessel carrying his beloved ones.
The ship had been discovered and shot down by Shinra forces, who feared some greater ploy at work. It had been boarded by military units, the passengers executed, then allowed to float aimlessly until it was finally swallowed up by the sea, along with its ghosts and skeletons.
Seun changed, as any man would. He drank. He fought. Eventually he was listed as a bouncer in a Sector 3 bar he frequented, and no pleasure could match the jolt he received when he felt a man's bone and cartilage crack beneath the force of his fist. One-handed or not, he quickly became notorious, and he found his lust for violence difficult to appease. The manager of the bar put him to work doing repairs, thinking that would be a satisfying way of channeling his energies –- which is how he earned the nickname 'Carpenter', since he had never bothered to part with his real one –- but it did little good. Eventually, the manager recommended him to the Turks, and Seun passed all the prerequisite tests with ease. In exchange for becoming a Shinra dog, he was given the use of his left hand back -- a mechanical replacement, at least. In exchange for becoming a Shinra dog, he was given enough violent work to slake any thirst, and very little restraint. All he had to do was follow orders.
Of course, Shinra discovered his true identity and origins, but it no longer seemed to matter. He performed his tasks with a harsh fluidity rarely surpassed, and never complained about the dirty jobs. The nickname 'Carpenter' is still used by many around Shinra.
Gossip around the cubicle is that Seun had much more recent lover – a pretty, rich miss, in fact. Rumor has it, she was pregnant with his child. Rumor also says, she was found mutilated not so very long ago, the fetus murdered. But who can say for sure?