Post by Faris Scherwiz on Nov 12, 2012 12:30:01 GMT -5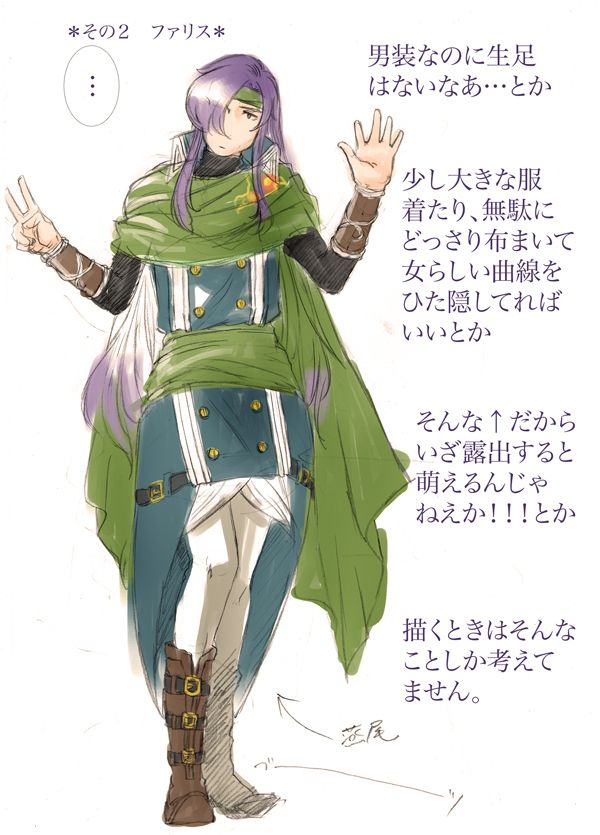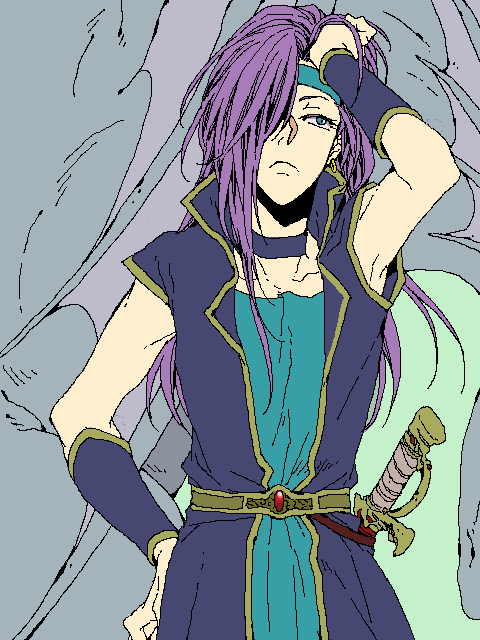 Name:
Sarisa Scherwil Tycoon
Nicknames/Alias:
Faris Scherwiz
FF:
V
Age:
22
Height/build:
She is 5feet 7inches tall and has a slender but lean build.
DoB:
Mid-autumn 22 moons ago.
Race:
Hume
Weapons:
Rapier, buckler, daggers
Level:
65
Strength:
Physical:65
Magical: 65
Agility: 65
Special Skills:
She is particularly good at raiding, pillaging, and sailing the seas even when there is no wind. She is also great at disguising herself as a man and taking charge.
Magic:
None.
Summon:
Syldra
Appearance:
Faris has long lilac colored hair that is always quite a mess and fierce green eyes. Despite wearing a green headband, her bangs cover half her face. Her physical appearance is androgynous due to baggy loose fitting clothes. These clothes consist of a sleeveless navy blue jacket, tailored to look like a captain's vestments, with a high collar, gold buttons and a gold belt, or even sometimes a green sash to hold it on. When the jacket is open, one can see a lighter blue tunic tucked away sloppily underneath. In cooler weather, she wears a black long sleeved shirt and leggings underneath the tunic. She wears brown leather bracers and knee high brown leather boots. On her second red belt, she wears a rapier, and daggers tucked away in other folds of her clothes. Over her shoulders and down her back she wears a huge green shawl that covers most her chest. The shawl is secured with a red broach.
Personality:
Negative aspects of her personality include being selfish, reckless, and even ruthless. However, she also is very courageous and charts her own path in life. She turned aside being a queen to once more become a pirate after all. For those who are related to her by blood or are considered her allies, she is fiercely loyal.
History:
When Sarisa was a toddler, she lived with her royal family in Tycoon Castle. Unfortunately, her playing near a cliff by the water caused her to fall and become lost to the sea. Her parents grieved, but the sea had other plans for the young girl. The only reminder she would have of her family is a pendant from her parents.
Seeing the girl float near death amongst the sea's foam, a band of pirates took pity on her. They raised her as if she was but another member of the pirate crew. Sarisa was unable to say her name properly, and ended up pronouncing "Farifa" instead. This caused the pirates to declare the princess's new name as "Faris". To protect her from being degraded and disrespect by the ruthless all-male pirate crew, the captain disguised her and raised her as boy.
The pirates gave her menial tasks that she learned to do without complaint. These tasks were swabbing the deck, washing dishes, and helping serve the food. Later they would upgrade her to being a look out and carrying booty.
However, it was not until the ripe age of fifteen, Faris demonstrated her first true act of courage to the crew. Terrified that the mother sea was going to finally swallow them whole, the crew, with a futile effort, tried to ride against the force of the whirlpool. Faris, feeling only concern for the people who raised her, did the most irrational and yet bravest action she could think of to save her family.
She jumped overboard, straight into the midst of the mysterious whirlpool to find out what was causing it and put a stop to it. It was then she met Syldra, the water dragon. Forcing Syldra to stop the whirlpool, she developed a sisterly bond with the dragon, and saved her crew all due to her bravery. Eventually she even tamed Syldra to pull her ship through the sea, thus eliminating the need for sails.
While Faris was training Syldra, the captain, old and ill, eventually There was no argument who should be the next captain. Unanimously, Faris was picked for the courage she displayed and as a reward for saving their lives. Perhaps if they knew she was a girl they would have changed their minds, but Faris would never reveal her true gender to them.
By the age of twenty, Faris encounters thieves trying to steal her ship. Syldra, faithful and true to Faris, made sure the ship didn't budge an inch, giving the crew enough time to catch the perpetrators. At first, Faris was going to hold the female perpetrator, Lenna, as ransom upon realizing she was a princess. However, Lenna had the same family heirloom as Faris. This caused Faris to wonder if this girl was a long lost blood-relative and decided to help and protect her.
Eventually, she allows the new party members to use her ship to go to the Wind Shrine, where they find the King of Tycoon has disappeared. But worse of all, her ship is drawn into another whirlpool - one not caused by Syldra, but a monster named Karlabos. Syldra, in order to protect Faris, sacrificed her life to defeat Karlabos. Faris, wanting to sacrifice herself to save Syldra, knew there is nothing she can do but protect those on her ship for now.
However, because there is no longer wind and Syldra was no longer with them, the ship drifted into a ship graveyard. After jumping over board and into the sea of damaged ships, Bartz and Galuf try to get Faris to remove her clothes in order to dry them. However, it was during this tussle they realized that Faris was not a man, but a woman. Faris, embarrassed and angry, tells them she is just as equal to any man and will still be treated with respect.
In need of new transportation, they eventually find their way out of the wreckage and into the North Mountain. It is here they find Lenna's wind drake and fly off to the Castle of Walse. They beg the king to stop misusing the water crystal, but he refused to listen. Just then a meteor crashes into the water crystal shrine, but despite killing the monster in the meteor, the crystal shatters. The water shrine, now sinking into the ocean, caused everyone to become lost in the current. Syldra comes back, still mortally wounded, to save the party from the current. Syldra having used her last ounce of strength, is swept away by the current. Faris, maddened by grief, only steeled her resolve to protect the crystals.
Finally reaching the site where the meteor crashed, the meteor site teleported them to another site in Karnak. It is here they tried to defend the fire crystal, but fail.
With rumor the King of Tycoon was in spotted in the Quicksand, the party quickly heads there with the help of Cid and Mid. It is there they enter Ronka Ruins and Faris has an emotional reunion with her sister. She called for her "father" when spotting King Tycoon. Lenna, realizing Faris is her long lost sister, broke down into tears and hugged Faris.
Following the trail of King Tycoon, they eventually end up in the floating earth crystal shrine. The two sisters were ecstatic to see their father safe upon encountering him again by the earth crystal. However he did not recognize them at all. Pitted against each other, the girls are forced to fight their father. Luckily, Krile jumped in to help the party. Her spell helped the king regain his memories and he threw his arms around both his daughters in rejoice.
Unfortunately, their time is cut short as the Earth crystal shattered, and Exdeath returned to the world. The king tells his two daughters and Bartz to unite against Exdeath. In order to save the party and fend off Exdeath, the king used all his power and sacrificed himself.
During the final preparations to fight Exdeath, Faris reminisced about the past with her sister. Her sister says they should keep Faris's identity secret from the chancellor who would probably never let her leave the castle again. While reminiscing, they both grieved for the loss of their father and vowed to not let his sacrifice be in vain.
Once they tracked Exdeath's location, they battled with all they had, but they were no match for the power of the crystals that the great sorcerer had. Galuf, in an attempt to sustain hope, sacrificed himself to give the party one last chance to battle Exdeath.
Exdeath then shattered the remaining crystals. Faris passed out only to awaken back at Castle Tycoon. To Faris's surprise, the chancellor found out her identity. Much to her dismay, she is forced to wear royal gowns and attend her own grand celebration.
Hating this new image she must keep up, Faris runs away from the castle, leaving her sister behind with the grand life. However, the castle is soon devoured by a black void forcing them to fight Exdeath for a final time. Once he was defeated, the crystals were restored and the world was brought back into peace.
Faris then abdicated her throne to her sister Lenna, wanting nothing to do with the royal life. She preferred the pirate freedom to the chains of being a Queen.
She once more reunited with her crew and ruled the seas. She was doing quite fine until one day a mysterious fog rose about unnerving herself and the crew. This caused her ship to be driven into a whirlpool and be lost to sea.
However, she woke up, banked on a beach. Her heart would jump not knowing where her crew went. Even more emotionally, when she looked up, she saw her sister-bound water drake. She flung her arms around the drake's wide neck. At first, she thought she was dead. After all, Syldra was here. However, once she started traveling along the beach and going toward the nearest village, she came to learn that she was not dead at all, but in a strange new land. Listening to the rumors at the pubs, she heard that many worlds merged together at the same time and everyone seemed to be in a jumbled mess.
She decided her new goal was to find a new ship, start a crew, and find her sister to make sure she was okay.