Post by HAUTECLERE on Nov 10, 2012 19:10:57 GMT -5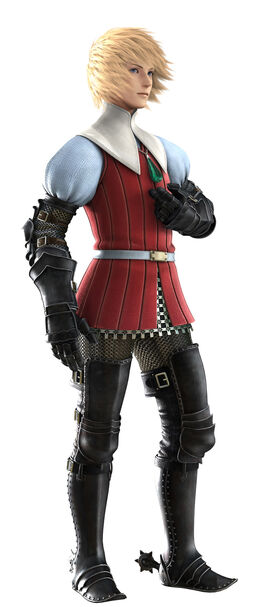 Name: Ingus of Sasune

Nicknames/Alias: N/A

FF: III

Age: Sixteen years.

Height/build: Ingus stands at five feet and nine inches and still growing. His body is slightly toned from the training he has undergone as a knight, but he still hasn't entirely lost his boyish lankiness yet, which is something that he's secretly self-conscious about.

DoB: 13 March

Race: Human

Weapon: Ingus is proficient with a wide span of weapons including knives, staves, and bows, but he is most comfortable with a sword in his hands. He is rarely ever seen without one, a typical cross sword with a crimson grip, silver blade, and black sheath.

Level: 68

Strength: 204

Default Job Class
Freelancer
Physical: 84
Magical: 45
Agility: 75

Specialized Job Class
Red Mage
Physical: 70
Magical: 70
Agility: 64

Specialized Job Class
Knight
Physical: 120
Magical: 30
Agility: 54

Special Skill(s): After being blessed by the Crystals, Ingus gained the ability to switch 'Jobs'. Although his main job class is a Freelancer, he can switch between a Red Mage and a Knight, depending on what the situation may call for. However, transitioning between job classes comes at a cost. From a Freelancer, he finds little trouble transitioning to Knight or Red Mage, but going from Knight to Red mage, vice versa, or from either of those classes back to a Freelancer puts both a mental and physical strain on him.

Magic: While in his Freelancer job class, Ingus can use very basic black and white magic, all in their beginning stages. After transitioning to a Red Mage job class, he has access to higher levels of black and white magic. However, his magic use is limited and he is unable to use higher levels of either kind, but he is able to retain his skill with a blade.

Default Job Class: Freelancer


White Magic

Cure

Sight

Poisona

Black Magic

Fire

Thunder

Blind


Specialized Job Class: Red Mage


White Magic

Cure

Cura

Poisona

Sight

Aero

Mini

Toad

Teleport

Cura

Blindna

Libra

Confuse

Silence

Curaga

Raise

Protect

Black Magic

Fire

Blizzard

Thunder

Sleep

Blind

Poison

Fira

Blizzara

Thundara

Break

Shade

Blizzaga

Thundaga

Raze

Erase


Specialized Job Class: Knight


White Magic

Cure

Poison

Sight


Summon: Hyper - Bahamut

Appearance: Ingus' sandy-hair, gray-blue eyes, and fair skin often puts people under the impression that the young man is breakable and delicate. However, it is quite the opposite. He holds his head up high and stands straight, shoulders back. In fact, it is quite obvious from his demeanor that he was raised to become a knight from a very young age. Oft, one can find a pensive and controlled expression on his face, though this does not make him entirely stone-faced. On the contrary, Ingus is more than comfortable expressing both ends of the spectrum of emotions: joy and sadness. His facial features have already transitioned from boyish roundness to a more mature, chiseled sharpness to them.

His most common job class, Freelancer, puts him in a crimson gambeson with puffed-out, light blue sleeves, and a high white collar. Around his waist is a white belt with a silver buckle. He wears a pair of black gauntlets and greaves, each secured with buckles around his limbs. His gauntlets go up to his elbows, while his greaves reach a little past mid-thigh. Under his greaves are a pair of black boots, each fitted with a spur. He also wears chain mail under all of his partial armor, in line with his training as a knight. One thing that appears across all of his outfits though is a pendant of green polished jade, fashioned in the shape of a long teardrop, threaded upon a thin piece of brown cord.

As a Red Mage, Ingus continues to wear clothing mostly the color red. He wears a red gambeson with a white cravat. Over the gambeson is a long-sleeved coat, the same color as his tunic. Attached to the jacket is a red, collared cape with white trim. A white belt with a silver buckle hangs comfortably loose around his waist, and after ridding the world from the Cloud of Darkness and Xander, he replaced his black gauntlets for thick black leather gloves instead. His black, buckled boots are also ideal for travel, for this appears to be all that he has been doing for the past two years. Ingus has also become particularly fond of a red hat, typical of a red mage, with a white feather attached to its brim. He still has his pendant, but it is not visible under his cravat.

Ingus' Knight job class is easily identified by a polished, silver helm with an upturned visor. Its metal protects his ears, along with the back of his neck. The rest of his suit of armor is the same color as the helmet, and upon his left shoulder is a black pauldron. The scabbard of his sword is attached to a brown belt, instead of a white one, and his greaves and gauntlets are silver like his armor, as opposed to the black ones while in his Freelancer form. He retains his red cape from his Red Mage class, along with his jade pendant.

Personality: As the "light of determination", Ingus is noted for his steadfast loyalty to all allies. He does not allow anything, both outside forces and inside forces, to shake his composure. He is incredibly honest, almost to a fault, and never hesitates to express his opinion when he feels that certain decisions may place people he cares about in harm's way. In fact, he will often go out of his way to ensure that his friends are kept safe, though people often find themselves frustrated when Ingus decides to step in their path and stubbornly refuse to budge without telling them that he sensed they were in danger. Most of his closest friends, however, are well aware of this trait and trust his judgment.

Often serving as the voice of reason, Ingus finds no trouble with receiving any sort of criticisms or harsh words from others and prefers to be quietly rebellious. One may find that although it is quite obvious when Ingus is bothered by something, he rarely explains what he is bothered by, or why it is grating his nerves, and it is even harder to read whether he is irritated or actually genuinely angered. He's terribly passive aggressive for the most part, but rarely holds a grudge. His anger often passes as a phase before he can find a way to make an enemy miserable.

Ever since returning to Castle Sasune though, Ingus has become uncharacteristically quiet. He had always been one of a few words, but his eyes took on a certain lifeless quality often found in a child who has seen too much. He knows that he can still summon the courage he had two years ago, but if he had a choice, Ingus wishes that the world could become a place where no one had to be brave. However, he does not want others to worry about his state of mind, and can often be found forcing a smile to reassure the people who look to him for guidance.

History: The closest that Ingus ever had to a parent was the King of Sasune. He never did learn who his parents were, for Ingus was orphaned at a very young age. Neither of them survived the attack on the airship while fleeing from the lower continent. It used to bother him, the way the other pages at Castle Sasune had their village homes to retire to at the end of the day, while Ingus had a small corner in the castle cellar to himself. And that was only because the king's daughter, Princess Sara, was quite fond of him. As he grew older, he began to wonder what his mother and father looked like less. They were no longer alive. There was no use dwelling upon it.

It was not until Castle Sasune was cursed by a local Djinn did Ingus realize that his path of knighthood would be momentarily interrupted by his purpose. When three other youths approached the castle from the neighboring town, Kazus, he felt something tugging at him. He had questioned his purpose plenty a time, but Ingus had never expected the answer to drop right into his lap. And he was worried about the princess anyways, who had disappeared to take matters into her own hands. He resolved for himself that Djinn or no Djinn, he would not allow any harm to befall Sara. Perhaps that was where his mistakes began. It was true, he did care about her, but he feared that she had misinterpreted his concerns, and told himself that nothing would come out of Princess Sara's feelings, especially because an orphan boy simply would not do for a husband of a princess.

After returning to Castle Sasune, curse lifted, Ingus was released by the king to travel with the other Warriors of Light. Never did he expect the journey to actually be the answer he was waiting for, the closure that he felt that he needed in his life for identity. It was very strange, after rescuing all four crystals from harm's way, to resume a regular life of peace. He was so used to having an agent of Xander, an agent of darkness itself, to coming at him in an attempt to end his life. Ingus had always figured that being trained as a knight would have prepared him properly for the journey, but only after light had been restored did he realize that deep down inside, he had always been deathly afraid of failure. It was difficult being fourteen years old and having the fate of the world riding upon one's shoulders.

So after sealing away the Cloud of Darkness, it was Sara who asked Ingus to travel with her, hoping that it would help to alleviate his mind from the recent stresses. What she failed to realize was that traveling together worsened the knight's state of mind. Out of duty, he accepted anyways, despite wanting to be left alone. He figured that everything would be safe as long as he set up necessary emotional lines that he would guard carefully. Although Ingus remained the same faithful knight prior to the world's engulfment of darkness, she too realized how cold he had become. He spoke less and less to her as they traveled from town to town on chocobo-back, and when they finally returned from their journey, she did not bother him until the merge.

After reports of new towns and cities suddenly appearing across the land, Ingus was sent out from Castle Sasune to investigate. However, even prior to being deployed for the mission, Ingus had noticed that the cities of the lower lands were suddenly appearing in conjunction with the floating continent. King Sasune's official mission only made it easier for him to investigate. At first, he was hesitant to take the mission. He feared that he would feel the weight of a world upon his shoulders once more, but if it came to that, he would not turn away the duty. So Ingus set off with a chocobo to investigate these new cities, all while secretly hoping that he would cross paths with a particular Warrior of Light, but at the same time, did not want the warrior to see what he had been reduced to after rescuing their world from darkness.