Post by Cissnei on Jul 26, 2012 17:28:47 GMT -5
Name:
Unknown
Nicknames/Alias:
Cissnei, Shuriken, "Black Suit"
FF (Even OCs have to originate from a certain FF):
Final Fantasy VII
Age:
28
Height/build:
Cissnei has a very thin and willowy, yet toned figure. Her height is around 5'3''.
DoB:
Unknown
Race:
Human
Weapon:
She wields a giant red Shuriken named Rekka, she also uses a handgun when needed.
Level (Anywhere between 1-100):
53
Strength (Triple level. Add 50 extra points if level is 80-89; add 100 extra if level is 90-100.):
(Split the strength up between physical, magical, and agility.)
Physical:
45
Magical:
50
Agility:
64
Special Skill(s):
Her strengths include talking her way out of situations, stalking, building rapports, and disappearing.
She also holds various titles such as communications specialist, shuriken martial artists, and motorcyclist.
Magic:
Time Materia – Haste, Slow
Fire Materia –Fire, Fira
Long Range Materia – Same attack power from back row/far away.
Summon:
None.
Appearance: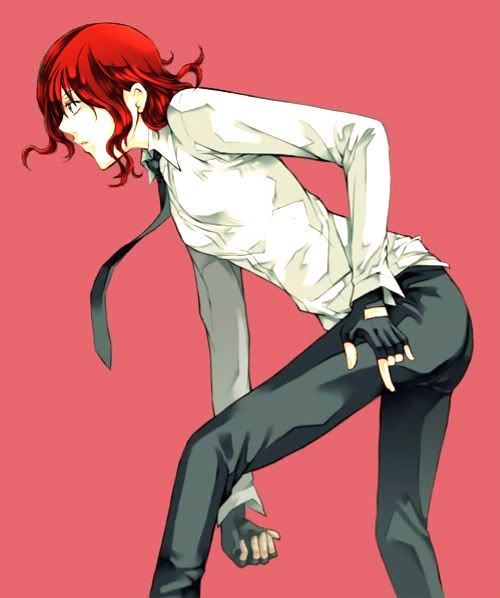 Cissnei is a very thin and willowy figure with red brown eyes and wavy hair. She is nicely toned thanks to her profession. Her skin tone is very pale. She generally wears a black blazer that zips all the way down, and a white long sleeved dress shirt underneath of that. There is a hidden pocket inside the breast of the blazer that she usually keeps important documents in. To top of the dressiness is the black tie that is preened to be straight. She wears black fingerless gloves. Black dress pants and polished black boots finish off her Turk attire.
However she is not afraid to take a vacation and wear a yellow tankini once in a while. This tankini consist of a white tank top that is lined with lavender and exposes her midriff. The bottom is a pair of comfy cloth shorts that have a white waist and the rest is yellow with the number 0 7 printed on the left thigh in white letters lined in pink. It is adjustable with the string cord at the waist. To top it off, she has a pair of yellow sandals to go with it.
Personality:
There is but two faces….
The mask placed by ShinRa…:
At work she is determined to complete her missions. To her fellow Turks she can be motherly and this can sometimes make bossy, but also someone they can depend on. This could be due to being in an orphanage so long that she adopted her behaviors of helping others there into a more professional demeanor. Psychological wars are something she is very good at, and when she wants in someone's head, she won't stop until they crack. She will deceive people if that's what it takes to get the mission done. But generally she is quiet, reserved, and driven by her missions. Generally, she is thought to be a little cold by those outside ShinRa, but that is because ShinRa groomed her to believe that everyone was her enemy.
But alas, the mask chips…:
Deep inside, her heart aches for the one failure that changed her vision. She used to see missions as black or white, making her decisive in everything she does. But once she failed that mission to save Zack, she learned that there are gray areas that need to be dealt with. This caused her to stick to moral values over work values. This leaves her to question herself often about what she is doing, and why. Every time she receives an order, she now thinks about what means they are to achieve. Are the orders humane?
And falls away…:
She has always yearned for a higher meaning in life. She has yet to set her path, because ShinRa has been setting it for her. She envies the Soldiers - First Class whom had wings to fly away from all this chaos. She herself wishes she had wings to escape this structured life ShinRa gives her and to explore a new life that could have a higher purpose. She is torn between loyalty to ShinRa and loyalty to herself. An inner struggle blossoms and has yet to be resolved, perhaps due to a lack of courage within her.
History:

~~ The Beginning ~~
All that was left in the poor child's possession was a locket of her mother. A name was bestowed to her when she arrived in the orphanage.
While at the orphanage she generally kept to herself, reading books and solving the problems of other children. When one child was being bullied she did not mind dishing out a brutal fight that made the other kids feel sorry for the bullies.
Coy and cunning at her age, the Turks were looking for recruits and seeing the burning fire in her eyes to be more than what she born to be, took her in to their 'family'. It was here they gave her strict education and molded her into the special agent they needed her to be. She finally found her place in the world, and stands firmly in it. Though she must say she has never been free once in her life.
~~Her weapon of choice ~~
Barely at puberty, Cissnei was forced to prove herself to ShinRa. To see if all the training and education was doing anything for her, she was put on assignment. The Wutai war was still raging, and she would be dropped into the edge of it, with hopes that she could make it into the heart.
Her only protection would be her age and a false background -and secretly, Veld's prayer.
ShinRa troops dropped the girl in the middle of the sea, being an excellent swimmer she was able to swim the rest of the way to Wutai. Her tired body helped her look like a poor stranded girl on their shore as she lay their like a child from the sea and earth.
The honor code for Wutai soldiers would not allow them to kill such a seemingly helpless child, and accordingly her sting operation began.
Her mission – discover what they wanted so ShinRa could give it to them in exchange for putting the reactor there, and any other information would be beneficial.
This was the first time Cissnei felt really important in a situation, she would not let them down.
The troops took her to a safe house which lies underneath the ground and was well guarded. The elderly, women and young were here. No ShinRa soldier would ever be able to get this far.
She was questioned there, and was told she couldn't go home til after the war. That was okay, she was an orphan.
Her time with these people grew heavy on her heart, but her mission was strong in mind. All she could discover was that they only wanted to be left alone, to rule themselves and be free individuals. The war was enslaving them, and though they were losing power, they hoped the end of the war would result in a rebirth to the way things once were. But none were opposed to fighting ShinRa for using them.
She found out what they wanted…
And it was war…
She soon befriended some older kids who pretended they were Wutai soldiers. They loved the throwing stars and played and practiced with them. They even allowed Cissnei to play once in a while.
Cissnei loved the shuriken. It was light and it sliced freely through the air. Its own path was determined by the user, but if the user was unsure of how to wield it or unskilled, its path was undetermined. She loved the eldest child's Shuriken the most. It reminded her of a phoenix flying when he wielded it.
The downfall of such a weapon however was when it went to its destination, if it was deflected, you are left helpless. Your aim always had to be sure and true. It had to be mastered. Just like one must master herself to find her way in life.
They ventured outside the safe house and too far into the edge of the city. Cissnei followed them, but learned nothing from them other than how the Wutai made traps.
They were only kids, and had no militia training, but because of their play uniforms they had sewn themselves they endangered themselves.
ShinRa troops were on the edge, but because Cissnei was younger and not native they did not heed her warnings and practiced throwing their giant shurikens into trees.
Blood ran and shimmered in the pale evening light. Blood red stains against a darkening sunset.
Cissnei took cover and watched ShinRa soldiers slaughter them. She watched her friendship die, but being but a trained child she wore a numbed mask. She walked to them and took the eldest boy's Shuriken.
The weapon would be a symbol of many things to her. To represent the passion she admired in the Wutai people…but it also represented the cost at which she was loyal to ShinRa. The cost of having no friends other than those of ShinRa and no freedom without ShinRa's say so.
She named it Rekka; raging fire, to represent her passion. But raging fires could destroy everything it touched and burn out.
The soldiers returned Cissnei to Veld . He was proud at the mask ShinRa crafted for her, for she wore it with such grace it sent shivers down one's spine.
~~ The Failed Mission ~~
Several years later, Genesis clones would plan an attack in Midgar and it would be here that Zack 'helps' her defeat them. It was her mission to keep an eye on Zack, though whether that was why she joined his fan club or not is still debatable. Another mission of her's was to find Hollander. When she lost her sight on Zack after Hojo had their say with them, she had no idea of their fate.
Rumors of experiments began spreading like wild fire within the next few years. She began to wonder what was going on. Why were innocent soldiers allowed to be treated like this? These few years she began to do more research, staying at work later to rifle through files. She realized far too late that Zack and Cloud were subjects in an experiment and was ordered to subdue them.
Unable to cope with what ShinRa was asking her to do and their actual situation she met them head on. Seeing the condition they were in, she aided Zack in finding his friends and even giving him an escape vehicle. Whispers were going on that Cissnei was not faithful any longer, perhaps they were true. But she did not care about rumors, but sought only the truth, she wished not to wear the veil ShinRa forced others to wear.
In hopes of finding more information on her target, she met Zack's parents. It was a very touching event. She had never seen parents so worried about their child. It almost broke the mask she wore. Never having parents she could almost imagine that this was how it felt to have them. She almost fell to pieces when they asked her to join the family. Though oddly enough, despite feeling bad for being against him and retrieving him for ShinRa's sake, she is issued an order to save him. This would be the worse failure she had ever experience.
Failing to save him from ShinRa troops in the end, only caused her great pain. She had never failed before, and being unable to save someone she thought of as a friend was painful to her. She had never really been close to someone other than the Turks, and when she lost him, it sort broke her a little on the inside.
~~ The Great Escape ~~
When someone is in pain, they flee from the source or fight it. This is what Cissnei proposed to do a month after Zack's death. She stood outside Zack's house one day, trying to muster the courage to do it. ShinRa told her to let them wonder what happened to their son, but Cissnei felt responsible for letting them know the truth. She lacked the courage to tell them about their son's death. If she told them, then his death would become more real.
After the Turk's fight with Avalanche, Veld disappeared; presumed dead, so Tseng said, but all the Turks knew otherwise. She and a few other Turks, disappeared to. This is harder than what it sounds.
ShinRa did not take lightly to escapees, especially those they invested time and money it. Cissnei was hunted but eluded them. She knew the first places they would look and found the most discrete place to live.
However, she became uncomfortable with a free lifestyle. It was something she always wanted and yet now she had it, she had no idea what to do with it. She was afraid of the freedom. It was then she understood why Aerith feared the open blue sky.
Perhaps it was because she was too young that she did not understand what life was.
It frustrated her.
Like a slave who was immediately freed with no plan, she wanted to run back to her master.
However, during her 'great escape' from ShinRa, she met the old man that lived in the mountains. He helped her traverse the rocky land, keeping her hidden for a week. He offered her a raft to get to Mideel but warned her it would not be a good idea. The sky was red, and that only meant the storm was coming its way. Wanting to continue pushing ahead, she did not heed him, and left on the old raft.
Then the storm rolled in. Cissnei did not have lady luck on her side, and lost to the ocean. She nearly drowned but was luckily washed upon the shore. Her body was later retrieved by Reno at one of the reservoirs on the island. Drowned worn and beaten, Cissnei was not in good shape. Reno took her to get temporary medical aid at the nearby village until ShinRa could send in someone to give her better treatment.
When the medical team did arrive, Tseng informed Reno that the president decided that she would be put in Deep Ground's intense care. Being a renegade Turk, her punishment was going to begin.
Moved to Deep Ground, they were quick to make use of her. Once she regained conscious, they decided that they needed to subjects to study the healing effects of Jenova cells. They subjected Cissnei to various forms of torture to see how fast she would heal. However, she did not stay long enough to help any research.
Reno was quick to catch on. Being worried about his coworker, he snuck in during the more inactive hours with the help of a few acquaintances he met in there. Looping the video on the cell's camera, a nurse Reno was well acquainted with helped Cissnei out of her cell and back into Reno's care.
Helping her run from ShinRa once more, Reno was certain to keep her tracks hidden until the hunt for her died down. She in return was an outside informant to the Turks.
However, those Turks who found her, did not bring her back, and she was able to give aid and information when needed. Her loyalty still fell to them.
~~Meteor~~
She resisted this urge to return for several years. This struggle existed only because ShinRa had been all she knew all her life.
What other purpose could she have?
Meteor fell and so many people needed help.
She immediately ran to help ShinRa during this period of chaos. She felt a sense of purpose again. And this time it was her decision to help, not ShinRa's. With ShinRa changing its views, she felt more comfortable to return. Surprisingly she was not punished due to stronger authorities putting a few words in for her.
However, it had consequences. She could no longer be promoted, and had to be under Turk supervision at all times. However, her life was spared.
~~After the Merge~~
Then the world merged. Her new mission with ShinRa is to reap information about the new locations, new populations, and the motives of the new territories. Cissnei is striving to protect of the citizens of Gaia, while forging new relationships with the 'new' territories.