Post by Hiko on Feb 2, 2012 15:41:52 GMT -5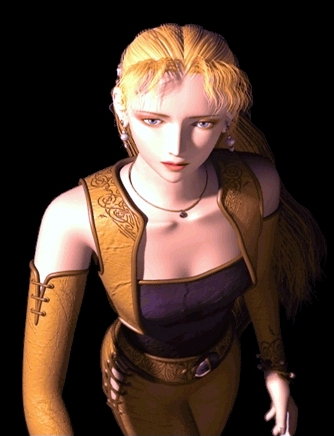 Name:
Celes Chere
FF:
VI
Age:
20
Height/build:
5'8" / 128 lbs
DoB:
March 10th
Race:
Human
Weapon:
Rune Blade
Level:
44
Strength:
132
Physical:
50
Magical:
50
Agility:
32
Special Skill:
Runic (Absorbs magic attacks into her sword, and uses the energy for herself)
Magic:
Some magic abilities (most ice skills, minor healing)
Appearance:
Celes has blonde, wavy hair, usually bound in a light half-braid, with bangs fluffed over her forehead and a thin band around her forehead. Her skin is fair, and her eyes are a deep blue. Celes' usual attire is that of a black undervest, with a pale yellow army jacket that has been modified with detached sleeves that allow slack at the shoulders for swordplay, and a pair of military-issue, pale yellow slacks. Her boots are combat-issued, and are blue-black in color.
Personality:
Named the "Ice Queen" by her peers in the Empire, Celes can come off as cold or critical when dealing with people she finds unseemly. A reformed pessimist, Celes' first nature is to look at a situation with a realist's outlook, though she will usually take the optimist's choice of action in a fight. She often fights with her memories of her days working under Gestahl, understanding that she can never truly repent for her actions or the crimes she committed in the name of the Empire – especially, it must be noted, in the case of the town Maranda.
With her friends and allies, Celes is a compassionate and bold young woman, who puts the tasks given to her first, others second, and herself in a far last. She can be wry, with an acerbic, if amused tongue, and is quick to point out flaws with a tease.
Since the crash of the
Strahl
, Celes has become reclusive, if not completely dependent on her allies. With no memory of who she was before, or her own abilities as a competent fighter, she has taken to letting the leading men in her life control situations; she will normally defer to Balthier, though she has shown to become defensive where Nyna is concerned and uncharacteristically standoffish with Fran.
History:
Born in the capital of Vector, Celes was one of the first soldiers infused with magic. Progressing through a soldier's ranks quickly, she earned the title of "General" by eighteen.
Though it was never made clear to her allies why she rebelled from the Empire, she has hinted that the poisoning of Doma was the last straw for her already guilty conscience. When she finally resisted orders, she was taken to a dungeon at the lowest levels of South Figaro during its occupation by the Empire and brutally beaten. Awaiting execution, she was discovered by the thief Locke and summarily rescued.
Following the thief to Narshe to protect it (and the esper it hid) from Kefka, she confronted her former ally and bested him in combat. At Terra's sudden disappearance, Celes led the expedition to find her, as well as the following sojourn to Vector to rescue the trapped espers.
However, en route to Vector, Celes was mistaken for the opera diva Maria and was forced to participate in a rendition of "Maria and Draco." Mistaken yet again for the performer, Celes soon found herself kidnapped by the airship pilot, Setzer Gabbiani. She soon turned the tables on the gambler and indentured his aid against the Empire.
Reunited with her friends at the Magitek Research Facility, she once again confronted Kefka. However, the man taunted her allies, implying that Celes had been a spy for the Empire all along. In doing so, he shattered Locke's slow-building trust for the woman, and subsequently broke Celes' heart.
In Thamasa, the bonds are renewed when Celes attacks Kefka outright, denying the less-than-sane general a chance at "mating" to create a supreme magic user.
In the World of Ruin, Celes had been living the last year with her former mentor, Cid. When the man died from a debilitating illness, Celes fought with despair and the belief that she was alone in the world. Failing suicide, and seeing a highly familiar bandana on a wounded bird, Celes renewed her faith in her friends' lives. While nursing her injuries, she discovered a letter from the late Cid addressed to her that gave details on a hidden raft the man had been working on.
Arriving on the shoddy creation at Albrook, Celes discovered the events of what (and who) created the World of Ruin. Reuniting with Sabin, they ventured to Mobliz and discovered Terra alive and well, taking care of orphans of the war. Rejected by the girl, they left for Nikeah and found and partied up with Edgar, who for the last year had been working under a pseudonym. Soon, Celes had found her makeshift family back together again, and the Returners set forth to Kefka's tower in hopes of defeating the then godlike Magitek knight for good.
After Kefka's defeat, Celes hoped to confirm her relationship with the "treasure hunter," Locke. However, soon after the Merge occurred, and she was split from her friends and loved ones.
In the year since the Merge, Celes had made herself quite comfortable as an opera diva in Treno under the pseudonym "Chere Cole," in the hopes that should Locke ever hear of her, he would know that her feelings had never wavered.
The name didn't stay with her long.
While aiding a young Al-Bhed girl, Celes quickly became wrapped up in a certain sky pirate's life - much to what seemed to be everyone's dismay. When aboard Balthier's airship, the party was attacked by brigands, and Celes sustained major damage in the crash. With the loss of memory came the loss of what little grasp on magic she'd regained.
Now relying completely on the newest rogue in her life, and plagued by nightmares of events she cannot recall, Celes does not know where her new path will take her – she can only hope that she will find answers on the way.
Most recently, Celes has been split from her party; alone, and not in her right mind, she is ripe pickings for any monster or brigand that might come her way.