Post by zeekayl on Aug 24, 2011 13:21:29 GMT -5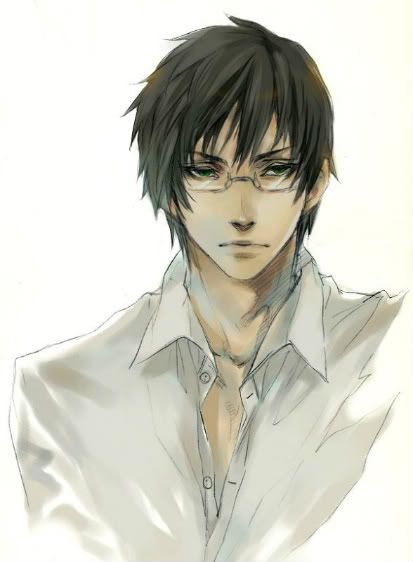 Name:
Bronte Demitri deNote
Nicknames/Alias:
Captain (though this isn't a nick name—it was his rank in the Imperial Army before he left)
FF:
XII
Age:
25
Height/build:
Well toned from constant combat training, Bronte is broad shouldered and deeply tanned due to days out in the sun. He stands in at a tall 6'2", though his warm personality deters any sense of intimidation from his impressive physical stature.
DoB:
November 22
Race:
Hume
Weapon:
A long spatha blade about three feet in length, the cross guard intricately crafted to look like a set of wings folding protectively over his hand. He fondly named it 'Celadine', and often refers to it as a 'she'. Instilled with the military rule that 'Your sword is your wife—it sleeps in the same bed', Bronte has grown so attached to Celadine that he takes offense to anyone belittling his strength, instead turning it around so that they are insulting his sword.
Level:
55
Strength (anywhere between 1-300, triple level or less):
165
Physical: 70
Magical: 45
Agility: 50
Special Skill(s):
A natural charmer, Bronte takes pride in his silvered tongue and often makes use of it to get within someone's good graces. Despite his military occupation, Bronte is very a home-centered type of guy; he makes an excellent dinner for two, and has a flair for decorating and making a place seem cozy. He has the innate ability to relax those around him due to his easy-going personality and wolfish grin.
Magic:
Protectga, Shellga, Bravery, Summon Esper
Summon:
Zalera, the Death Seraph
Appearance:
Ruggedly handsome, though in a classical way, Bronte has a careless charm and masculinity about him that begs one to question whether or not he is being serious or toying with you. His dark brown hair is cropped in short, choppy layers, brushing against his face every now and again. Unlike his younger brother Angelico, Bronte has bright green eyes beneath his frameless glasses that are warm and inviting. Despite their warmth, however, they do not miss a thing, and when he is angered they can be as cold as the depths of hell. Several scars litter his body—some on his arms, some on his torso-all from battles he has led.
Personality:
He's a natural ladies' man, shamelessly flirting with women (or the occasional young man that catches his eye) and flattering them with pretty words. However, he means all of it—to him, every woman is beautiful, and he will find something to praise her for. He is honest, brave, and loyal to a fault—both in battle and relationships. Once he attaches himself to a person, he would do anything to protect them or provide them with what they want or need. Has an unexplained fear of Chocobos, and refuses to ride one.
History:
The noble deNote family—a name etched here and there into Archadian history for the brave soldiers it has given the Imperial Army. As such, when Bronte was born, his father Naberius had impossibly high standards for him to meet, and was trained in the art of battle from the time he could properly read books on war. Though his father was no soldier himself—he worked gathering samples for Draklor Laboratories—he wanted nothing more than his son to become a perfect soldier. He instead hired a man who trained Bronte, one who acted more as a father to the young deNote than Naberius himself did. This man's name was Moriar, and he was everything Bronte wanted to be.
Now, Bronte had two brothers by the time Moriar was hired, a six year old named Angelico and a newborn named Maion. He didn't really take any notice right away, even as the years passed. Angelico would sit on their balcony and watch Bronte train in the courtyard below, whispering things to their mother who paid little attention to him as she cradled the healthy infant in her arms. Neither brother held much interest to Bronte—Angelico was a sickly youth, and often had to stay indoors with their equally sickly mother.
The years went by, and Bronte trained hard under Moriar's scrutinizing gaze, receiving rare praise from Naberius in the process. Despite that, he still managed to find time to sneak off into the city to flirt with the pretty girls. Finally, when he was nineteen, he was accepted into the Imperial army, and left his home behind. Moriar, though aged, took up arms beside his pupil.
Bronte quickly climbed the ranks through battle after battle with Rozzarian forces, passing Moriar in the process. When he was twenty-two, he achieved the rank of Captain, now in control over his own platoon. However, that same year came the news of his mother's death, and he took as much time as he could to visit his home once more. He was enraged—he hadn't even known she was ill to begin with. Angelico had grown distant in that time, almost cold, and that only further angered the Captain.
For a week, they quarreled over everything, Angelico's calm succeeding in turning Bronte into a ticking time bomb. On one of the last days of his leave, Bronte seemed to hit a nerve, and Angelico snapped, attacking both of his brothers verbally with little restraint. It wasn't until he broke down coughing that Bronte withdrew from the argument, looking on in shock as he saw bright blood spattering his brother's hand.
The next day, Angelico was gone.
With a heavy heart, Bronte returned to his station, worried for his brother. A year passed, and not a single word from him. However, within that year he was informed that he would help lead the attack on Dalmasca. Despite his shock, he took his orders in stride, making the necessary preparations and heading out on the approved date.
However, during that battle, his world came to a grinding halt. Why was he doing this? These people posed no threat to the Archadian Empire…they were all innocent. Innocent blood, staining his blade and hands. Conflicted, he stood in the middle of the battle, staring at the pointless bloodshed around him.
…No. No, this wasn't what he wanted to do, his honor and men be damned.
In a decisive move, the Captain fled the battlefield, unnoticed in all the clamor, and managed to escape. He fled at first to Mt. Bur-Omisace, taking refuge there for a while from all of the fighting while he gathered himself and his thoughts.
After a time, he joined the Insurgence of Rabanastre, and, as was expected, was not trusted at first. But he proved to be a valuable source of information, and in his own way helped aid the fall of Vayne. However, he still does not know whether or not the Archadian Empire has a bounty on his head for being a deserter, and so travels, taking jobs here and there as a bodyguard. He only stays in one place for a time before picking up and moving on, unwilling to allow the Empire any leads of where he may be hiding.
After all—better a wanted man than a dead one. Can't catch a pretty lady from six feet under, now, can he?